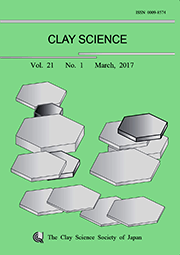 Clay Science is a quarterly international journal in English published by the Clay Science Society of Japan. The editorial policy is to accept papers on original research or reviews in clay mineralogy and related fields.
Editor-in-Chief
Teruyuki Nakato
Department of Applied Chemistry, Kyushu Institute of Technology
1-1 Sensui-cho, Tobata, Kitakyushu, Fukuoka 804-8550, Japan
E-mail: nakato_at_che.kyutech.ac.jp(please change _at_ to @)
phone/fax: +81-93-884-3308
Associate Editors
Takeo Ebina, National Institute of Advanced Industrial Science and Technology
Syuntaro Hiradate, Kyushu University
Yusuke Ide, National Institute for Materials Science
Yoshikazu Kameshima, Okayama University
Jun Kawamata, Yamaguchi University
Yoshiyuki Kuroda, Yokohama National University
Yoshihiro Kuwahara, Kyushu University
Tomoyuki Makino, Tohoku University
Masaharu Nakagawa, Kochi University
Masami Nanzyo, Tohoku University
Chiaki T. Oguchi, Saitama University
Tomohiko Okada, Shinshu University
Masafumi Okawara, Iwate University
Ryo Sasai, Shimane University
Masayuki Shirai, Iwate University
Noriko Suzuki, Showa Pharmaceutical University
Shinsuke Takagi, Tokyo Metropolitan University
Kenji Tamura, National Institute for Materials Science
Satoko Tezuka, Chiba Institute of Science
Shingo Yokoyama, Central Research Institute of Electric Power Industry
Advisory Editors
Pilar Aranda, Materials Science Institute of Madrid, Spain
Gabriela Carja, Gheorghe Asachi Technical University of Iasi, Romania
Hyoung Jin Choi, Inha University, Korea
Jin-Ho Choy, Dongguk University, Korea
Nithima Khaorapapong, Khon Kaen University, Thailand
Jin-Wook Kim, Yonsei University, Korea
Makoto Ogawa, Vidyasirimedhi Institute of Science and Technology, Thailand
Yul Roh, Chonnam National University, Korea
Ajayan Vinu, University of Newcastle, Australia
For Authors
Browse Issues
All articles published in the Clay Science will be accessible through the J-STAGE.
Rights and Permissions
Request for transfer of copyrights on previously published articles on the "Clay Science"