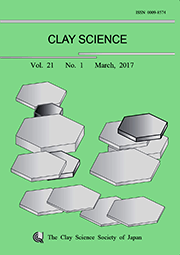 Clay Science is a quarterly international journal in English published by the Clay Science Society of Japan. The editorial policy is to accept papers on original research or reviews in clay mineralogy and related fields.
Editor in Chief: Takeo Ebina
Research Institute for Chemical Process Technology
National Institute of Advanced Industrial Science and Technology
4-2-1 Nigatake, Miyagino-ku, Sendai, Miyagi 983-8551, Japan
E-mail: takeo-ebina[at]aist.go.jp (please change [at] to @.)
phone: +81-22-237-3011, fax: +81-22-237-7027
All articles published in the Clay Science will be accessible through the J-STAGE.
Request for transfer of copyrights on previously published articles on the "Clay Science"